A warm-weather warning will come into effect for parts of the country later today.
Temperatures are set to hit in excess of 27 degrees in parts of the south and west, according to Met Eireann, who've issued a yellow level alert.
It's in place for Galway, Mayo, Clare, Cork, Kerry and Limerick from 1pm until 7pm.
Met Eireann says the Solar UV index is very high, so people are being advised to wear a high factor and to stay out of the direct sunshine.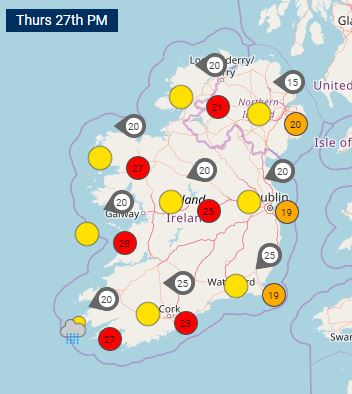 While Water Safety Ireland is warning people to stay safe when swimming in the hot weather today, a swimming ban remains in place at a number of beaches in Dublin including Dollymount, Sandycove, Seapoint and the Forty Foot.
Heavy rain earlier this week caused an overspill at the Ringsend treatment plant leading to sewage entering the sea.
Tests results from the effected beaches are due back today with hopes that the ban will be lifted.