Tickets for Ireland's opening game of the 6 Nations are reselling online for more than €2,700.
Ireland kick off the defence of their crown next weekend, when they host Eddie Jones' side at the Aviva Statdium.
The clash between the boys and green and England is usually one of the most anticipated games in the sporting calendar, and this year is no different.
People throughout Ireland are clamouring for one of the 50,000 or so tickets to the game, and the demand has led to sky-high prices being charged through online re-sesllers.
At the time of writing, one ticket can be bought on Viagogo.com for €2,770.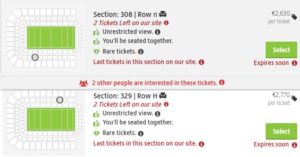 That's despite the highest category of tickets on general sale being valued at €150.
It's hoped legislation to regulate ticket touting will be before the Dail next Tuesday.
Fine Gael TD Noel Rock, who drafted the legislation said:
Once again people are fed up at seeing tickets to a sporting event being touted for ludicrous prices.

The Six Nations game against England has seen tickets selling for €2,700 online. This is unacceptable.