Met Eireann has issued a weather advisory for wet conditions along western coasts until Saturday morning.
The alert is in place Clare, Cork, Kerry, Limerick, Donegal and Connacht.
🌧 Very wet conditions coming for western counties over the next few days.

⚠️ Update tomorrow with possible warnings. pic.twitter.com/vaqCb9swys

— Ben Finnegan (@_BenFinnegan) October 5, 2021
The forecaster is predicting a band of rain to come in from the Atlantic, and is expected to stall over western counties on Thursday and Friday.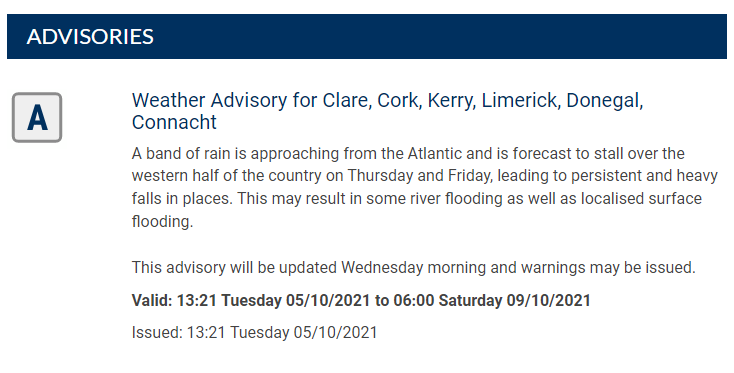 The advisory will be updated tomorrow, with warnings possible.
"So we're going to see a transition later today, into a milder air mass coming up from the south," says Elizabeth Coleman who is a forecaster with Met Eireann.
"Through the day tomorrow it's going to feel much milder and humid and will have some patchy rain and drizzle.
"But for Thursday and for Friday we're going to see a front trailing along the western side of the country. And that's going to be quite persistent in some areas on Atlantic coasts."
However, it will be largely confined to western counties, because "we have a high pressure blocking over Europe, so it won't progress eastwards.
"But, it will progress eastwards through Saturday," said Elizabeth Coleman.