Cathal Barrett will miss Sunday week's Munster Senior Hurling final, after his Tipperary manager Liam Sheedy confirmed the corner-back will be out for the next three to four weeks. 
The Holycross-Ballycahill defender was due to go for a scan on Tuesday night, after sustaining the injury in Sunday's Munster round robin win over Limerick at Semple Stadium. Sheedy told Off The Ball's Valerie Wheeler, "We'll wait and see the results of the scan to see exactly what level of damage is done, he'll be off his feet for the week.
"Even from a match preparation point of view, if you don't get the training done in the build-up to the match it's very difficult to feature.
"I would say it's looking at three to four weeks."
While Barrett is almost certainly out of that game with Limerick, Sheedy hopes their progress in the Championship will allow scope for him to return. "Obviously there's the All Ireland series that kicks off after the 30th of June, so obviously Cathal will be back in full-swing for that."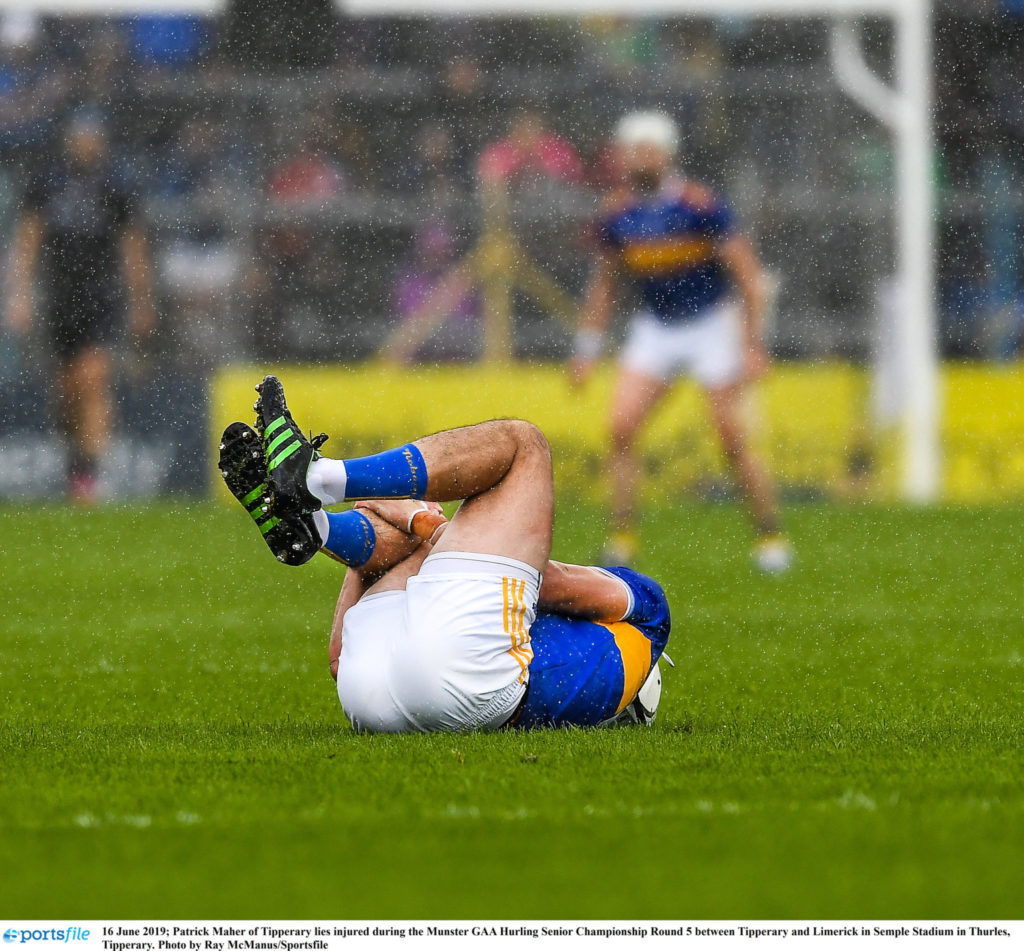 Bonner
News of Barrett's injury layoff comes hours after Patrick "Bonner" Maher's season was brought to a premature close. Following a scan of his own, it was confirmed the Lorrha-Dorrha forward sustained an anterior cruciate ligament injury during Sunday's defeat of Limerick in Thurles.
Maher requires surgery to rectify the injury, and is likely to miss at least nine months as a result. Understandably, Sheedy is disappointed to lose the two-time All Star, "Any genuine hurling person will be gutted for him because he's a real warrior and brings so much to the pitch.
"I'm gutted for him personally, but I suppose it's an opportunity for the squad where someone else has to step up. I'm very confident I've assembled a really really good squad.
"Unfortunately for Bonner, I'm really gutted for him personally, but it presents an opportunity for somebody else in that squad to grab that jersey and go and do what that man has done so well over the last four matches.
Injuries to Maher and Barrett chum the waters of Tipp training, and Sheedy hopes that has a galvanising effect on his panel for the rest of the Championship, "You're looking for the next guy to come in and play to their strengths.
Bonner has his own star qualities that he plays to. I'm not looking to find another Bonner, there's only one Bonner but I believe I have really really good players in the squad, and I think there'll be a real excitement for other members of the squad. They'll say 'God, there's a position now potentially up for grabs in two positions', and that should make training very interesting for the next seven days."