Fermanagh's Rory Gallagher is the latest figure to step forward and offer his thoughts on Michael Murphy after the Donegal forward came in for criticism from RTE's Colm O'Rourke. 
Working alongside the Glenswilly man during his days with Donegal, Gallagher offered a nuanced look at O'Rourke's claims pertaining to Michael Murphy's ability to go missing in big games.
"I can understand what Colm O'Rourke was saying," Gallagher conceded on Friday's OTB AM, "[Michael] has been limited on big days.
"But I can tell you, it is very difficult to play when there's two men on you, when you're starved of possession, when you're the whole focus, and maybe Monaghan and Tyrone have nullified him to an extent."
Lauding a "phenomenal" player, however, Gallagher believes that those who criticise Michael Murphy can scarcely imagine the impact he has on the basis of his overall contribution to Donegal.
Michael Murphy is a greater leader than anyone who hasn't worked with him can ever imagine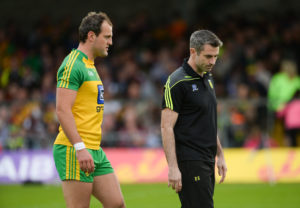 "He [sacrifices his own game]," Gallagher noted, "he's a greater leader than anyone who hasn't worked with him can ever imagine.
"Maybe people who watch Donegal unbelievably closely might see it, but he can read situations and it is never a case of him hiding.
"He makes mistakes like every other player ... but it is his ability to read situations for what's needed. He can adapt to every situation."
An opinion contrary to O'Rourke's claim that Murphy simply drifts out of games, Rory Gallagher is of the opinion that Donegal's Ulster final opponents will be wary of Murphy's threat.
"I think Cavan will be switched onto him," Gallagher admitted, "and they will have learned massively from Tyrone [and their defeat in the semi-final.]"