A six-time All-Ireland winner with Dublin, the recently retired Paul Flynn reflected on how living with Donegal's Michael Murphy in college changed the way he approached Gaelic Football's fundamental skills. 
Calling time on an inter-county career littered with collective and individual awards, Paul Flynn reflected on it all when appearing on Thursday's OTB AM.
A member of Pat Gilroy's All-Ireland winning Dublin side in 2011, Flynn's remained a crucial part of Jim Gavin's plans before injuries eventually told; six winners medals an astounding tally by any measure.
By his own admission, the reality of yesterday's announcement has yet to sink in. Yet, Flynn explored a turning point in his nascent career that relied largely upon Donegal's Michael Murphy - Flynn's housemate in college.
"Playing club football I would have considered myself a good kicker," Flynn noted of his technical ability before acknowledging that such skills had to be honed before making the leap into inter-county football.
"When I was in DCU interestingly, I lived with Michael Murphy for four years.
"I really do feel that it was a turning point."
He was one of the best ball-strikers from the minute he came onto the scene as a 17-year-old for Donegal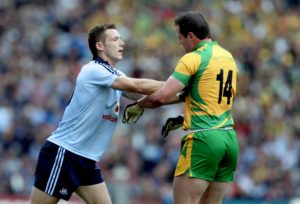 A living arrangement that saw Flynn, Murphy and Cork's Aidan O'Mahony sharing the same accommodation, Flynn believes he learned much from the man who would later become an All-Ireland winner with Donegal.
"We learned a lot from one another I'd say, but we used to go out and spend our spare time between lectures and stuff out kicking," Flynn recalls now.
"He was one of the best ball-strikers from the minute he came onto the scene as a 17-year-old for Donegal."
Closer to home, Flynn similarly shared an insight into the effect Bernard Brogan had on his game, and the importance that was afforded to ruthlessly perfecting the basics.
"They didn't measure [kicking] on outcome or scores," Flynn remembers of Brogan and Murphy.

"They'd measured it on how they struck the ball, and how they kicked it.
"Composure was a big thing for me. I might work at 100mph to get the ball, and then I wouldn't bring myself back to 85mph to get a good execution.
"So that was a big learning curve for me."