Who doesn't want to eat free burgers?
Thursday 20th June is National Burger Day, or "B-Day", where we'll be celebrating one of our favourite foods.
To mark the day, participating outlets across the country will be offering buy one get one free burgers.
So you can fill up on all of the big, juicy, cheesey burgers you can dream of.
Simply check the map here to see which vendors are taking part.
However, the people behind National Burger Day are in a bit of a pickle trying to find Ireland's best burger.
They've decided to put the power in our hands and lettuce decide who should be crowned king of the burgers!

Ireland's Best Burger
Do you have a favourite spot for when the meat cravings kick in?
Now is your chance to have your say and give your favourite burger the recognition is deserves.
The vote is open to all members of the public to decide who is best out of over 500 vendors across the country.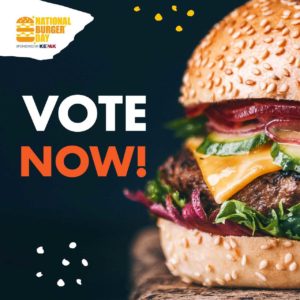 Last year's winner, The Hungry Moose in Kilkenny, has had people lining up to try the award winning burger ever since.
So get voting for your favourite burger at nationalburgerday.ie.