The 14-day incidence rate per 100 thousand population for Louth is now over 100.
The latest figures from the Health Protection Surveillance Centre has listed the county's rate at 101.6.
It's up from 92.6 on Friday.
Meanwhile, Donegal and Waterford have also seen their 14-day incidence rates rise, they're now at 96.7 and 93.8 respectively.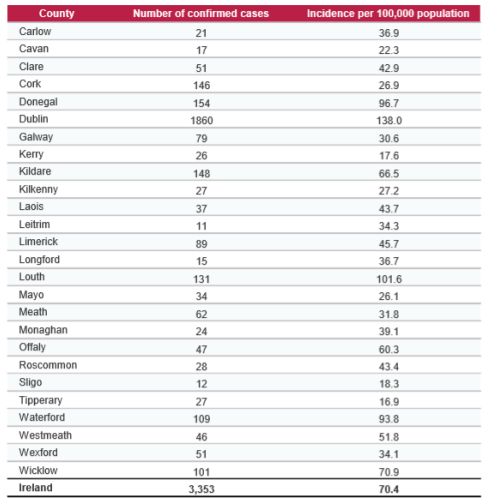 Dublin's 14-day incident rate now stands at 138.0.
In Dublin North West the rate is as high as 204.7:
Dublin 14 day incidence rate now at 138.

Louth has topped 100, Waterford and Donegal both in the 90s.

For Dublin North West the incident rate is 204.7 pic.twitter.com/F0tke4JedP

— Seán Defoe (@SeanDefoe) September 22, 2020
Over the past 24 hours 14 people have been admitted to Irish hospitals with covid-19.
It's the highest number of new virus-related admissions recorded since May.
The National Public Health Emergency Team is closely monitoring the situation in 8 counties.
Louth, Waterford, Limerick, Kildare, Leitrim, Donegal, Offaly and Wickow are displaying worrying trends.
The HSE's Chief Clinical Officer Colm Henry believes restrictions need to remain in place until a vaccine is developed:
"The figures are going up in those countries and the same rules apply in that there is no cure for this virus; there is no safe effective, widespread vaccine available.
"In that context, the only way we can prevent uncontrolled transmission, which is the greatest threat to our population, is restricting social contacts.
"Reducing the number of settings where the virus can jump from household to household and individual to individual."