There will be 14 extra TDs in the next Dáil.
The Electoral Commission has published an independent report with recommendations for a 174 seat and 43 constituency Dáil. There are currently 160 TDs representing 39 constituencies.
Dublin gets four new seats. One of those will be in Dublin-Fingal, which has been split into two new constituencies - Fingal East and West. The east will take in Swords, Portmarnock and Malahide
The biggest redrawing is across counties Wicklow and Wexford which become three constituencies instead of two.
A Wicklow constituency runs from Bray to Wicklow town and Baltinglass in the west. The Wexford constituency comprises most of the county south of Enniscorthy.
A third Wicklow-Wexford area starts above Enniscorthy and finishes below Wicklow, taking in Arklow.
Co. Cork gets two extra seats in the North Central and South Central areas.
Tipperary is also split into two different constituencies as are Laois and Offaly.
Kildare North gets an extra seat as does Galway East, Mayo and Meath East which takes back territory from Louth.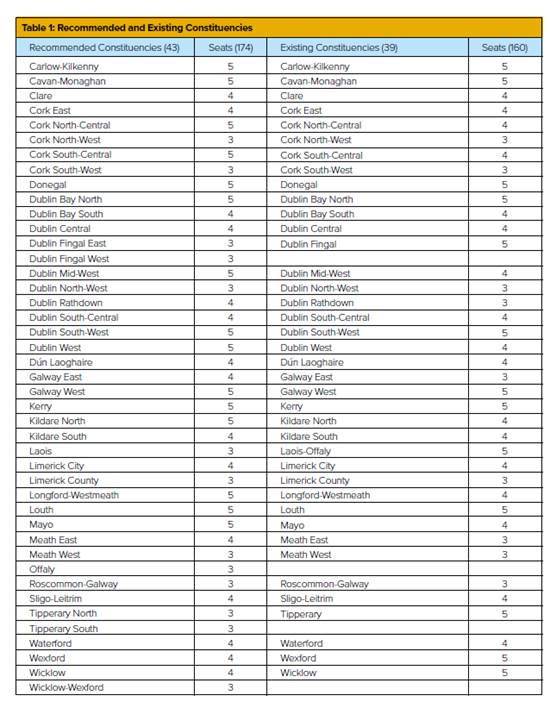 The changes would allow the Dáil meet its constitutional requirements with each TD in a 174 seat Dáil representing an average of 29,593 people, down from the current 32,182.