This time six weeks ago, we met three people from all around Ireland who all had something in common, they all wanted to change their lives and get fit by Christmas.
Mark from Donegal, Emma from Cork and Kate from Tipp have been eating well and working out for over a month now but our man Ronan from Vkng Built has also been setting our gang challenges to change things up.
Firstly, he had Mark doing burpees in the middle of the night, last week, Emma had to build a weekly plan for her diet and this week, it's the turn of Kate from Tipp but living in Dublin.
KATE ACHESON 
FROM: Tipperary
ABOUT HER:
Living in Dublin at the moment
5'10 in height
Kate is freelance project manager, so travels a lot with work.
She's into outdoorsy things and would love to train for a challenge.
WHY SHE JOINED:
Has been feeling down about her weight since August 2017.
She was a bridesmaid and her confidence was severely knocked by the lady in the dress shop about her weight.
She put weight on subsequent to that and have noticed that she haven't been able to curtail it since.
She has great energy and enthusiasm and often just need one other person to come out with her (walk/hike/jog) for motivation.
HOW HAS KATE BEEN GETTING ON?
Kate has jumped straight into her new regime, and has been getting out for long walks and hikes.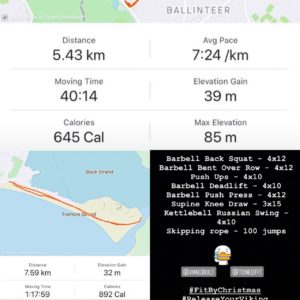 She even met our own Dermot out walking on Howth Head.
She's also been following the regime set by Ronan, like this weeks plan:

And eating well!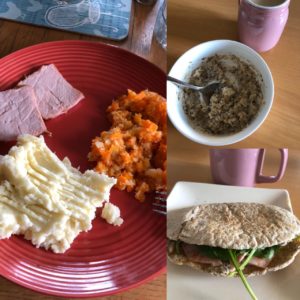 Remember: relevant Workouts, Nutrition Notes and Training Plans are viewable in a Public Folder for you to use in your own training.
Check that out here ⬇️
But for Kate, it's trying to keep the fitness going when her workdays get busy. So Ronan has set Kate the challenge for this week.
To design a template for a training week (7 days)
Needs to address the following issues:
- flexible so can be changed around a busy schedule if necessary
- realistic
- doable
- for the beginner to intermediate trainee
- address rest, cardio, resistance and mobility
- can be utilised by members of the public following your progress and their own workouts applied to the template.
Have to look at Kate's exercise plan below