A further 7,411 people have tested positive for coronavirus in Ireland, the Department of Health has confirmed. 
390 hospital patients have contracted the virus - down from 429 yesterday - of whom 98 are being treated in ICU. 
The five day moving average has increased to 5,784 - up from 5,768 yesterday.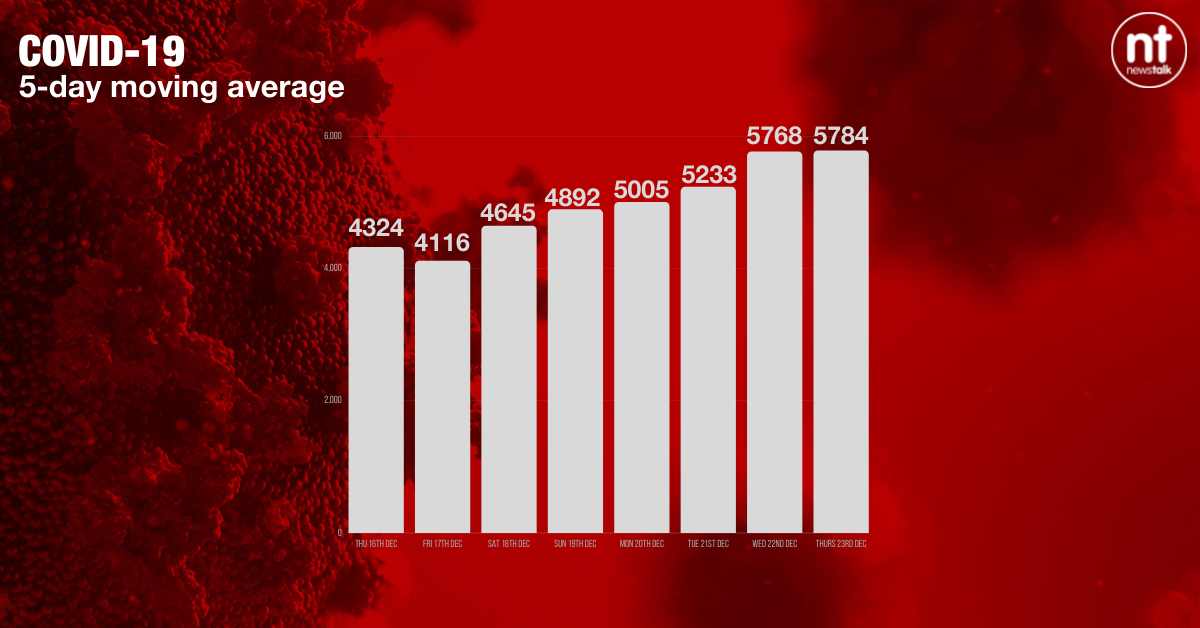 Chief Medical Officer Dr Tony Holohan said that figures were not a surprise given the highly contagious nature of the Omicron strain: 
"With Omicron now accounting for almost three quarters of cases in Ireland, today's high number of confirmed cases of COVID-19 is not unexpected, and we expect to see a rapid increase in case figures over the coming short period of time," Dr Holohan said. 
"It is imperative that all of us, to the greatest extent possible, make every effort we can in the next two to three weeks to only meet with members of our own households.
"Consider your plans over the Christmas period and into the early part of the New Year and try to keep your contacts as low as possible.
"If someone in the household receives a "detected" or "positive" test result either via a PCR test or an antigen test, then all members of the household should restrict their movements and not attend work or socialise with others.
"Even though we recognise that it is very difficult at this time of year to stay away from loved ones, it is really important that anyone who receives confirmation of a confirmed COVID-19 infection self-isolate for ten days."
Hospitalisations
However, Donegal GP Dr Ciaran Ó Fearraigh told Newstalk that despite the high number of cases, there were reasons to be optimistic as well: 
"We were expecting to see increasing numbers, we knew with what happened in other countries like South Africa, the UK and Denmark that we were going to see an upsurge in cases. 
"So probably as expected at this point. 
"I suppose the other data that we're looking at, in terms of hospitalisations, is still very promising. We're not seeing any increase in our hospitalisations as of yet. 
"And some of the data that's emerging from the UK regarding that is positive as well."
Main image: A woman swabs her nose for a COVID sample. Picture by: Iain Masterton/Alamy Live News